April 2022
Centre of Light nearly 75% Completed
It's been a busy and creative phase so far in 2022 in the construction of the Centre of Light. A wonderful natural plaster crew from Slovakia completed the final interior clay layer in record time, and we have also finished tiling the kitchen and dining areas. Some bathrooms have been tiled and that work is continuing now.
In addition, a 20 kW photovoltaic system was installed in the parking lot, thanks to the help of government subsidies. This will offset the electricity costs of running the Air Heat Pump central heating system.
Now we are preparing for the ceilings to be painted before the wood floor paneling is installed.
We are extremely grateful to all those who have helped manifest this miracle with their donations and time.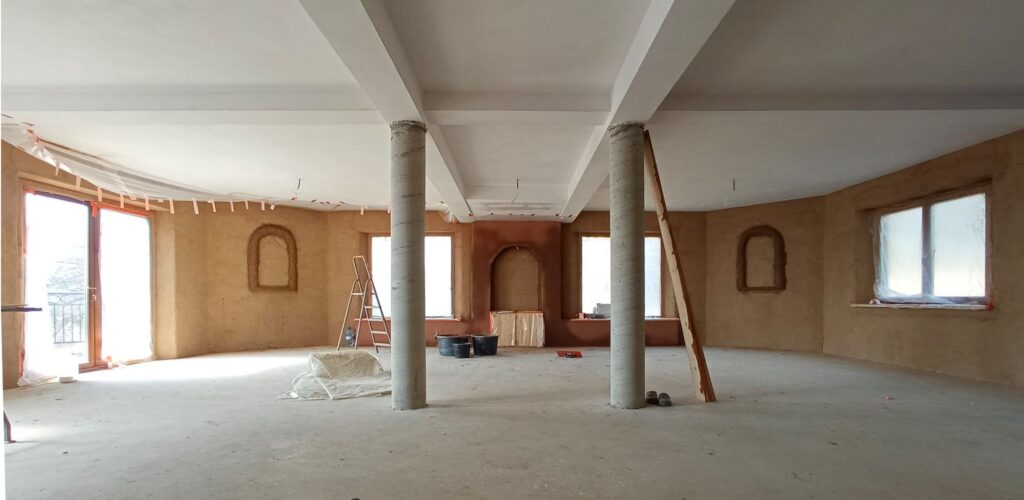 The Seminar Room, ready for a final coat of plastering.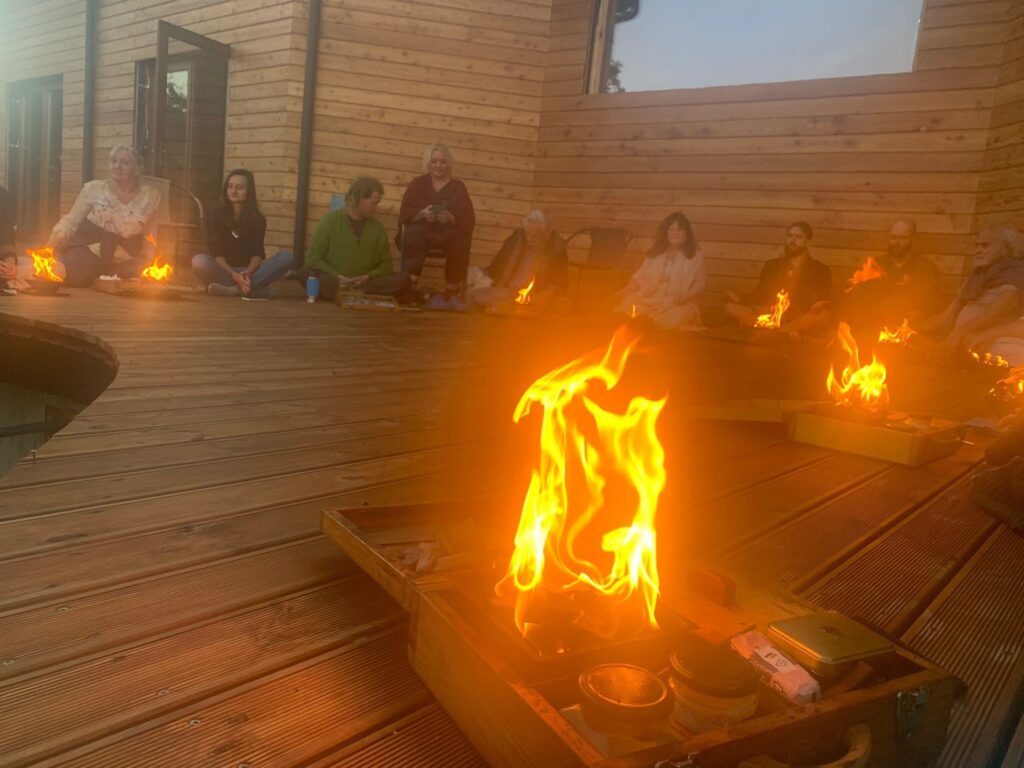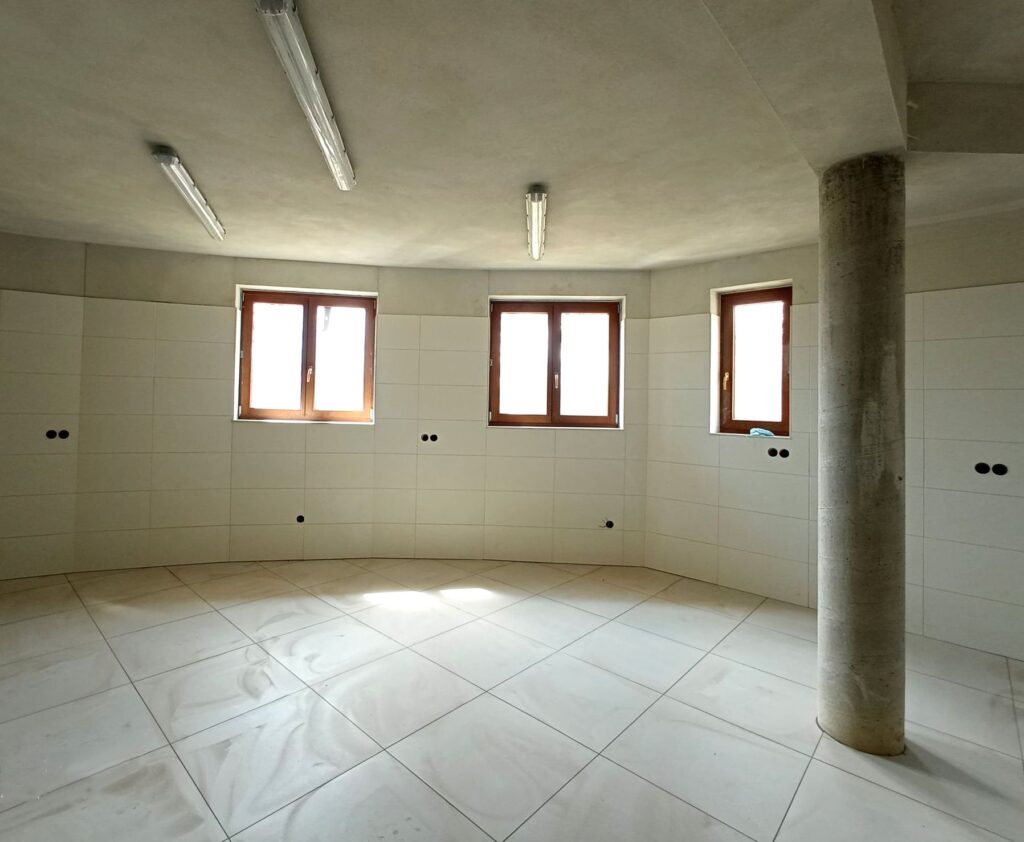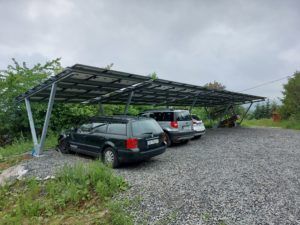 Our Centre of Light is nearly 75% completed. To open our doors with accommodation, full-service kitchen, creative arts centre and workshop hall, we need the following:
* completion of 12 guest accommodation rooms
* kitchen equipment for our vegetarian kitchen (under the guidance of our resident former caterer)
* equipment and supplies for the creative arts studio
* an elevator for handicapped guests (required for a public building)
* wood and tile flooring and trim
* interior doors
* wood stairs finishing and bannisters
* light fixtures for entire building
* bathroom fixtures, showers, toilets and sinks
* furniture and bedding for bedrooms
* furniture for dining room, seminar rooms, etc.
* ground level deck
* Landscaping
The needed, unfinished work and equipment are estimated to cost about $350,000 USD.
We commit to being of service to those in need. We foresee the needs to increase as months continue. Please be a part of this inspired project, so deeply needed in these troubled, challeging times, and help us achieve our goal by clicking here for easy ways to donate.
If you are from the US and would like a tax deduction:
Please donate through our affiliate NGO in the U.S. here and choose Centre of Light, Poland project.
September 2021
Manifestation Continues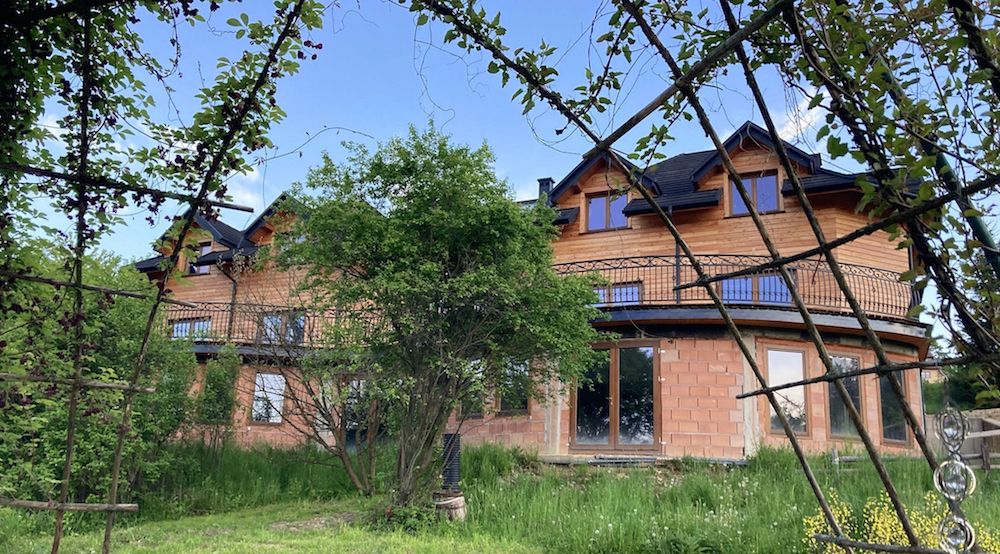 We are very happy to celebrate with you the wonderful news that the first interior clay plaster coat is completed in the Centre of Light. A rotating team was led by our amazing professional clay plasterer, Ewa Czap, from Poland, who did a fantastic job. We deeply value her hard work, insights and experience in all things clay, and more.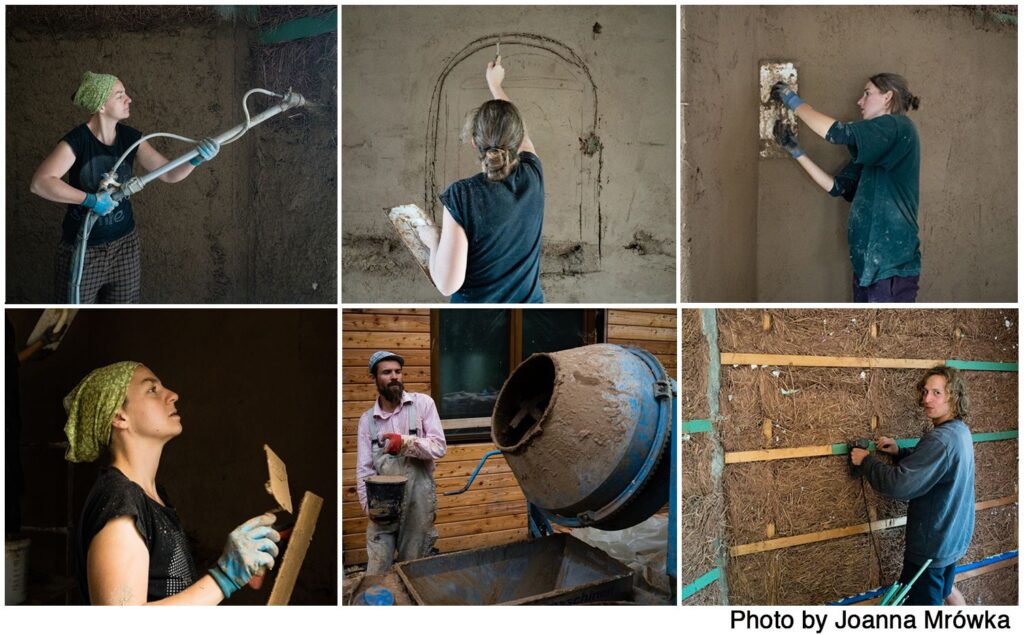 We are also very grateful to Tom and Ann Couto, and their friend Jarrod, who flew in from Baltimore Maryland, USA to volunteer their time and energy at a crucial phase. Thank you so much!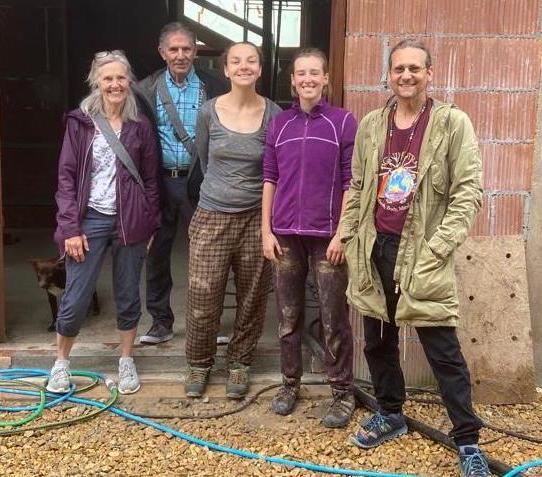 Thank you also to our artist friend Ela Borysławska, who created a beautiful leafy tree clay relief decorated with birds and a birdhouse! She is so loving and talented.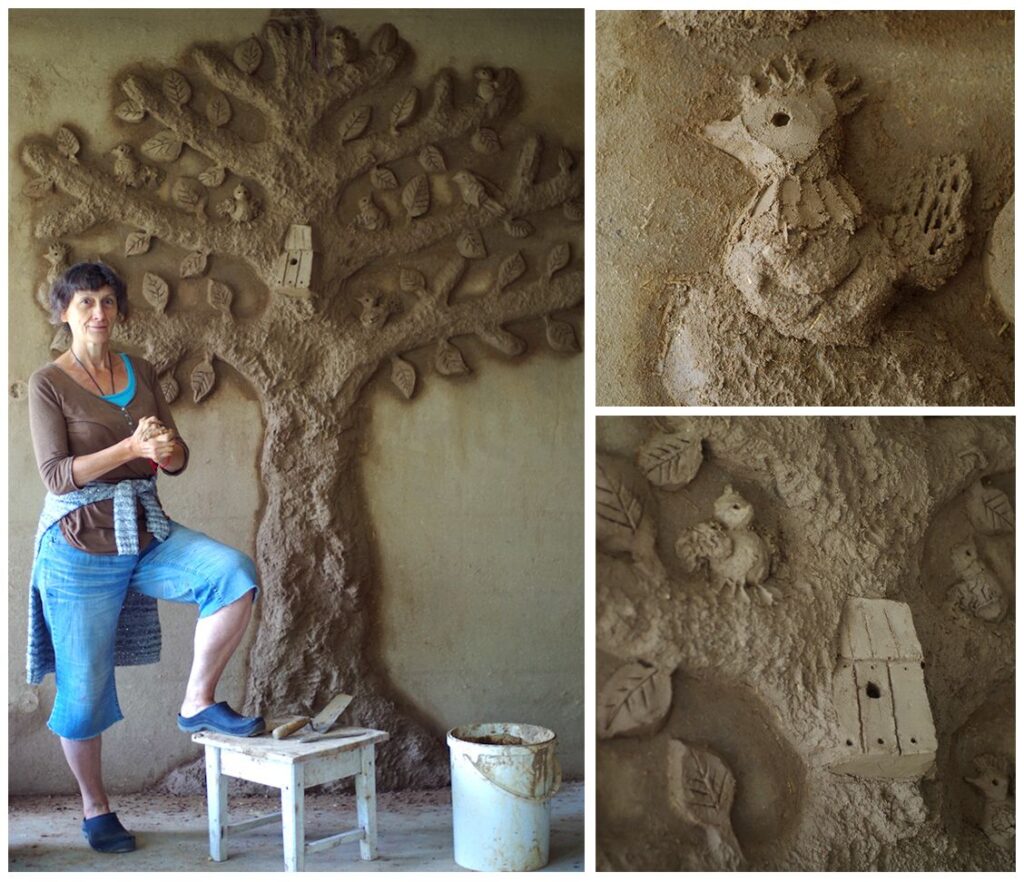 Also, just recently, we have been deeply touched by the kindness of Anne Canniere, a gifted artist from Belgium, who has donated her gorgeous handmade & painted tiles to be embedded in the final layer of plaster. The tiles took her months to complete, and the love she put into each tile is palpable. Radiant colours added magic to her unique depictions of Nature. Although we had never met her, she felt compelled to create art for the Centre of Light and to bring it herself all the way from Belgium by car! We are all very moved by her generosity of spirit.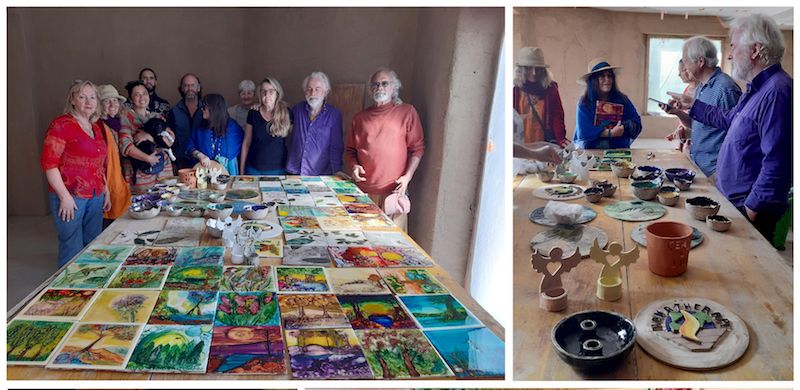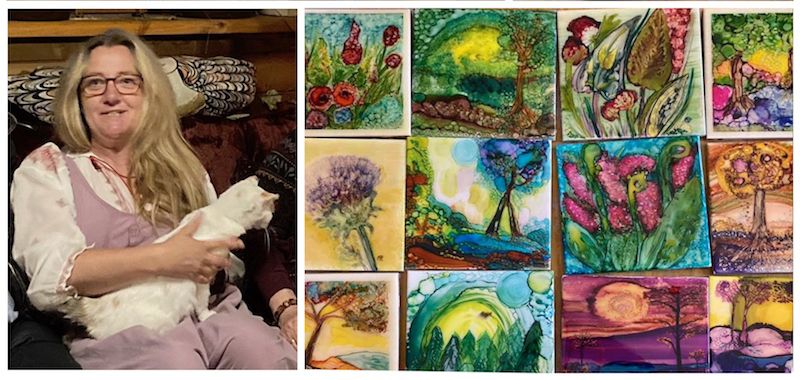 Now we are completing windowsills and some design elements before Ewa returns to do the final coat of plaster this month. So, we will keep you all posted. Soon we hope to have more photos showing the beautiful interior! At the moment, Centre of Light is approximately 60% completed. We thank all of you, who have sent donations and made loans for this amazing project.
You can support Centre of Light's manifestation here
June 2021
A milestone has been reached!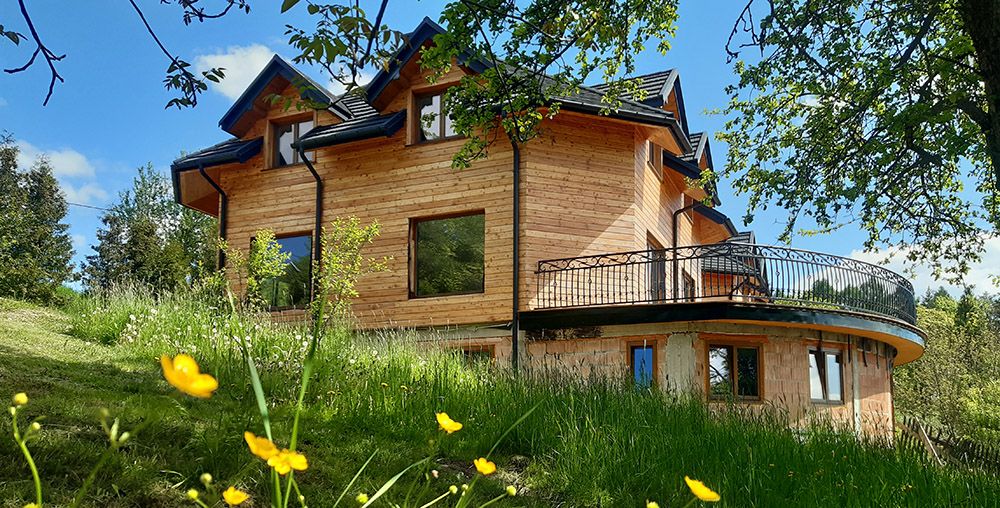 At Ecovillage Bhrugu Aranya, celebrations are in order!  The cast iron balustrade was installed on the terrace of the Centre of Light, which brings to completion a phase that began last fall. This means we can already have gatherings on the deck, with beautiful  views over the Mandala Garden, the forests and snow-capped Tatra Mountains.
Also completed in this period has been the installation of the floor heating and screed floor, roof insulation, the plastering of ceilings, and the electric and plumbing work – all major interior accomplishments. The exterior work that was done includes the septic, grey water and drainage systems.
Now, everything is ready for the clay plastering of the walls that is due to start in mid June and will last throughout the summer. We welcome volunteers who wish to join a creative team to help and learn how to work with this natural material.
We are incredibly grateful for the ongoing support and donations that have come from many around the world. They continue to be vital in bringing to fruition the vision that Shree Vasant had for the Centre of Light.
Although we are celebrating these miracle achievements, we still need funds to complete the building so that it can sooner serve it's purpose as a centre for Homa Therapy. It will also be a venue for teachers and pioneers in the fields of ecology, spirituality, healing and creative arts.
We are grateful for your ongoing help. 
Support us by making a donation here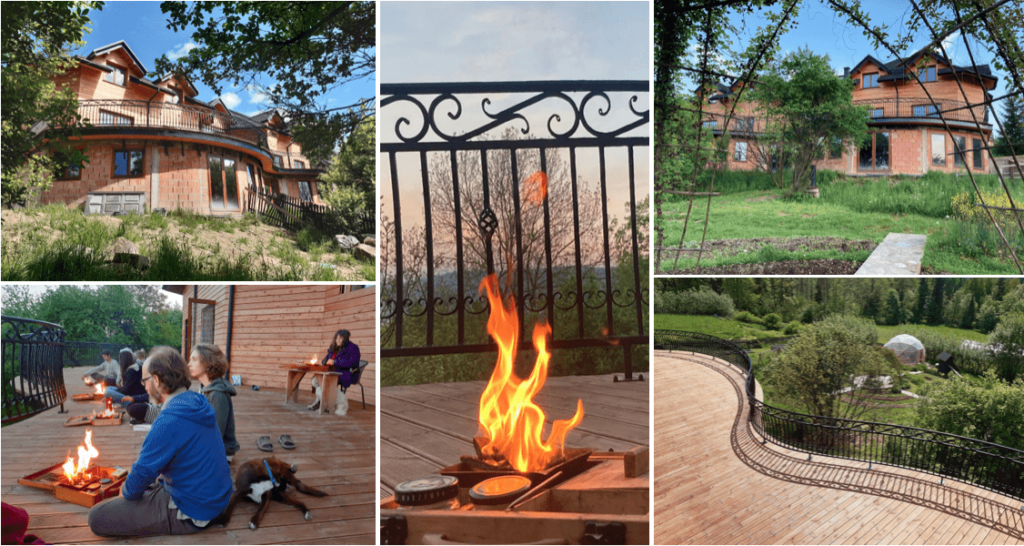 September 2020
Wonderful Wooden Deck, Windows and Outer Doors completed!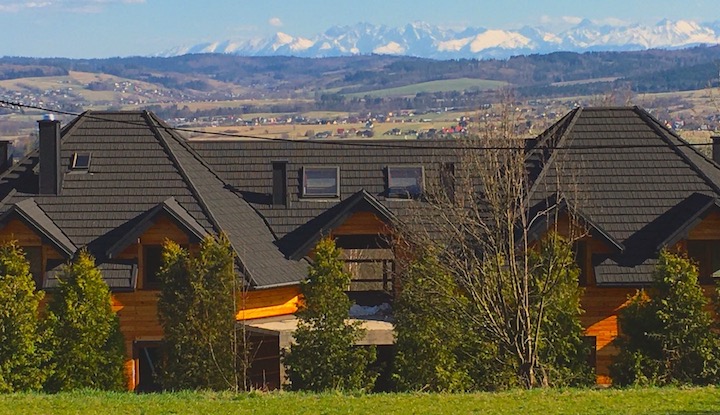 In these most trying times facing the world today, we have experienced a great increase in visitors, volunteers and people seeking safe haven. Interest in Agnihotra and Homa Therapy has grown exponentially! It appears that many more people are beginning to realize that the world is much more precarious than they could ever imagine.
People are searching for solutions to protect and improve their health, become more self-sustainable, and live a more heart-centered, positive life. There is so much fear in the cities, yet all who come to this high vibration Homa haven leave inspired, deeply touched by their experiences.
All this further highlight the importance of completing Centre of Light as quickly as possible to meet the need of the hour.
It gives us great joy to share with you what has been achieved so far this summer. We have managed to complete the installation of all remaining windows and outside doors, built a beautiful wooden deck facing the majestic Tatra Mountains, and finished the interior walls. Plumbing and electrical installations have begun.
The ceilings, floor heating and base floors will be ready by mid-October, so that clay plastering can begin. This will be a more creative phase which all the resident artists are looking forward to!
We all feel honoured and blessed to be a part of this special endeavor.
We are deeply grateful for your generous donations and also for private loans which have enabled us to reach this point. Not only have those funds helped us to continue building, but it shows your faith in this wonderful project and in us. You inspire us!
We do have a projected opening date, the end of 2021, so any further financial assistance will help to bring this vision into completion. This Centre of Light project has been a tremendous group effort to manifest and we thank each and every one of you for your continued support!
We are grateful for your ongoing help. 
Support us by making an donation here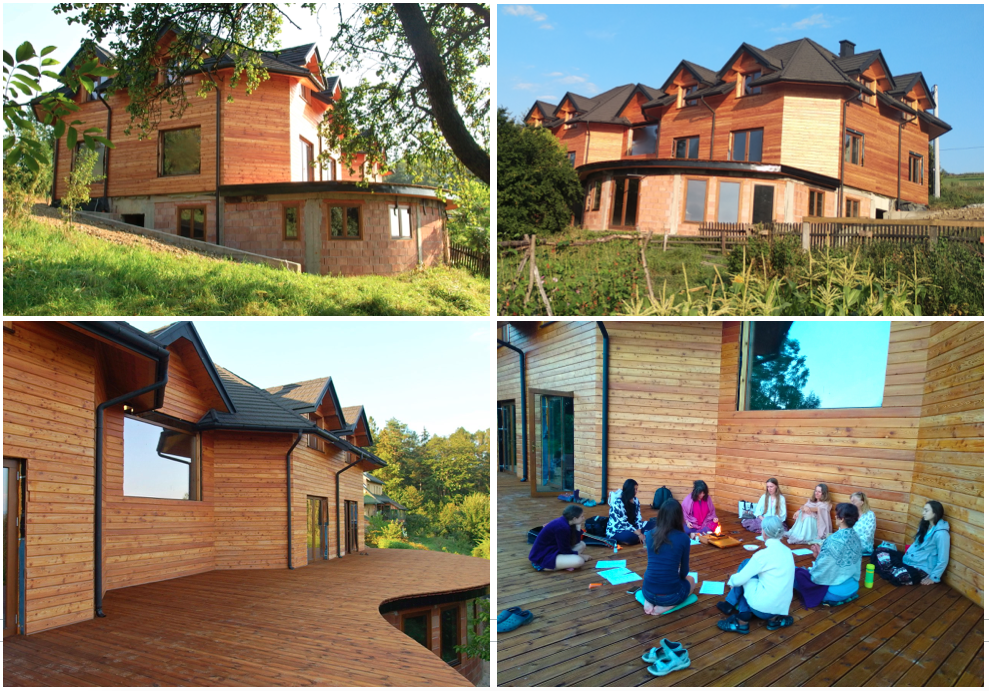 Spring 2020
First Windows and basement exterior walls!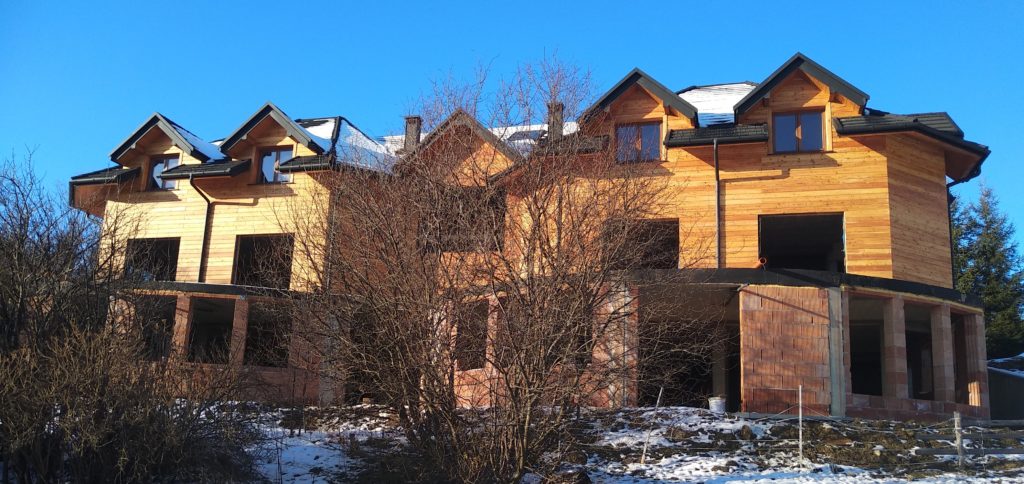 We are happy to tell you that in late autumn, we completed the basement exterior walls and new windows were installed on the ground floor. We now have to get the basement windows, balcony doors and front entranceway. Then, the much-anticipated interior work can begin!
The next major phase would be the electrical and plumbing installations. Once the floors and ceilings are completed, we can start the creative clay plastering. We look forward to running advanced clay workshops during that time. We will also offer volunteers the opportunity to learn from clay plastering professionals.
It is over a year now since the larch wood siding was completed and we love how it has mellowed into a beautiful warm, rich honey colour. The Centre of Light really fits harmoniously into the landscape and is attracting much local interest.

We are all looking forward to an exciting 2020 and great progress to be made on the eco-centre.
As we witness the ecological catastrophes and health crises happening around the world today, we realize even more now the urgency of completing this healing centre for all. We deeply appreciate your continued support.
With Love & Gratitude,
Ecovillage Bhrugu Aranya family
Donations are still needed for the Centre of Light. Please share our project!